How cute a way to pretty up floral centerpieces: put them in boxes! This makes for a gorgeous table and I love how the favours blend right in! For details go to
Martha Stewart.
Perfect for a summer cocktail party or a beach themed wedding, I love how these centerpieces bring the entire beach to you by including sand, shells and sea grasses. Serve a Blue Hawaiian cocktail with dinner and you've got yourself a tropical vacation!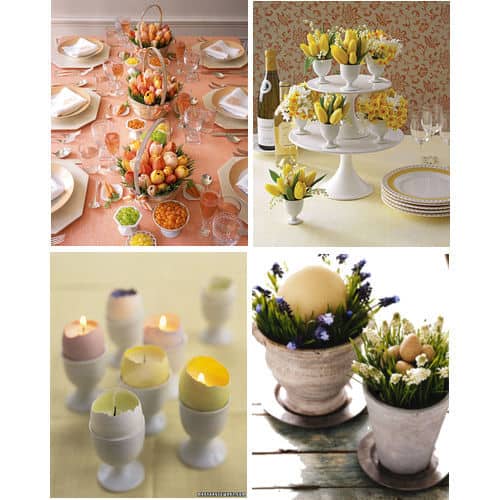 I love these Easter themed centerpieces, perfect for the family Easter dinner or a spring time fete. Source:
Thoughtfully Simple
I love these centerpieces because they are able to add height to the room without obstructing the view that your guests will have of each other and their surroundings. A low floral base gives way to a tall, slender body topped with curly willow, greenery and hanging candles, and makes a huge impact on the look and feel of the reception.
How cute and easy is this idea? Using mismatched goblets, wine glasses and martini glasses you can whip up a shabby chic table top in no time for an afternoon brunch or bridal shower. Grab some candles that you have lying around your house and pluck some flowers from your garden, and you have instant style that is mucho easy and mucho bonita. Source:
Simply Devine
When it comes to reception decor, it all starts with your centerpieces. It is, of course, what your guests will be staring at the majority of the time at your wedding. They set the tone for your reception, they tie in your colours and theme, and they provide an elegant focal point to rest your eyes on. This collection of nifty and creative centerpiece ideas will hopefully inspire you and give you ideas beyond a traditional floral arrangement for your wedding or your next dinner party! Enjoy!